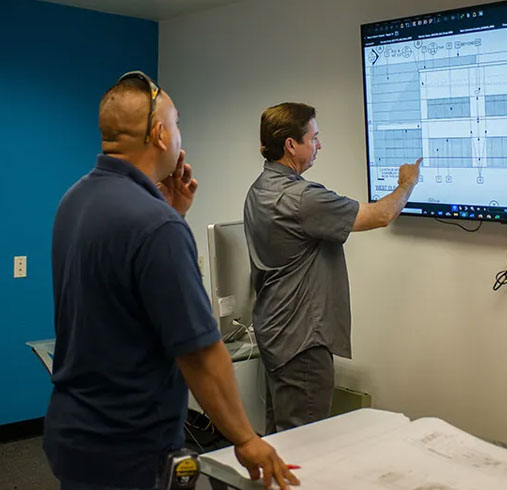 Experts everywhere
A senior CGI team member is available at every job site to answer all your questions, solve problems, and to oversee our quality assurance process to ensure that all codes are followed and that your glass is installed correctly the first time.
Every job, regardless of how complicated it is or where it is located, is treated with a level of dedication and workmanship that is second to none.
Extensive communication creates efficiency
Communication is also important. At CGI, our team keeps you informed of our progress every step of the way so you never have to wonder. One of the ways we do that is by creating a Daily Construction Report, which tells you everything you need to know, without having to ask.
Paying attention to everything
The CGI difference is in the interest we take in every detail. We never cut corners and we never ignore safety codes, which can mean very expensive change orders later on. Because we are so knowledgeable about the codes, we can alert you to a possible violation and save you time and money before the inspection.
Everyone at CGI follows industry "best practices," using state-of-the-art methods and superior workmanship. GI provides personal involvement and attention to each customer and project and often guides the contractors and project managers through their engineering options prior to final specifications.
"Every member of our team takes pride in their work. We strive for excellence in everything we do." – Daniel Kauffman
[Testimonials]
What Our Client Says
Duis aute irure dolor in reprehenderit in voluptate velit esse cillum dolore eu fugiat nulla pariatur. Excepteur sint
occaecat cupidatat non proident, sunt in culp aommodo consequat.
"Company did a perfect job. Thank you very much"

"Would recommend this company to everyone!"

"Went above and beyond fantastic all around highly recommend!"

"They were really nice, accommodating and easy to work with. Highly recommend!"

"We just moved our fitness business into our new Northridge location. Clean Glass Installation was not only very professional but everything was handled in a timely manner helping us open by our deadline. Not only did we open on time but Daniel the owner showed us some other options to help enhance the look of our entrance to our aerobic room. Highly recommend to anyone looking for good service, speed, and efficiency."
[Master Glazier]
Daniel Kauffman
Daniel Kauffman
Master Glazier
Daniel Kauffman has been installing glass since 1990 and has achieved Master status. Daniel knows that you want most in a glass installation crew are people who know how to avoid problems and delays and can get the job done on-time and on-budget, with the least amount of oversight.
Curtis Kauffman
Chief Financial Officer
Robert Elmquist
Operations Manager
Emily Tan
Accounting Supervisor
Yolanda Lara
Senior Project Manager
Jorge Mendoza
Assistant Project Manager
Roberto Chicon
Field Foreman
Jose Salas
Journeyman Installer