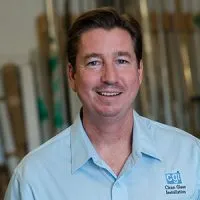 Daniel Kauffman has been installing glass since 1990 and has achieved Master status. Daniel knows that you want most in a glass installation crew are people who know how to avoid problems and delays and can get the job done on-time and on-budget, with the least amount of oversight.
Under his leadership, CGI has evolved to become one of the leading commercial glazing businesses in the western United States. Daniel has created ongoing working relationships with many household names, including Starbucks, Taco Bell, and Planet Fitness. These high-profile companies continue to work with CGI due to Daniel's commitment to excellence.
As CEO, Daniel brings nearly 30 years of experience to the craft of glass installation, starting as an apprentice at age 16 in a commercial and residential glass installation company. Daniel worked through his journeyman phase of glazing at the L.A. Unified School District, supporting the district's massive system of glass installation at its network of schools.
Although Daniel is the president and CEO of CGI, his vision is shared by his entire team and is reflected in their work ethic and attention to detail, including safety issues.
"Our repeat customers come back to us because they know that all they have to do is walk us through the project, turn us loose, and let us get to work. Plus, we maintain a high level of communication. Many of our customers have told us that this has made a big difference in the success of the glass installation part of their project, and even in the success of the overall job."
Daniel's commitment to excellence includes the achievement of the highest levels of licenses and certifications for the glazing industry. In addition, Daniel maintains a rigorous program of continuing education in all aspects of commercial contracting, including technical, scientific, regulatory, safety, economic, and professional resource management.
For more information about how CGI can help you and your project, call (818) 492-4265 or click here to contact us online.